The New Year is here, and I know, it happened so suddenly that we have all started to make these silly mistakes of writing 2016 instead of 2017, haven't we? (be honest, please). At first, I would like to wish you all the best in the following next twelve months, I hope all of your personal and career goals would be fulfilled and even surprisingly exceeded. I believe that it will be the time of mainly satisfactory and pleasant events, undoubtedly, some of the obstacles eventually will appear, just make sure to treat them as lessons learned – experience is the key to the success. Lennox Lewis, after a scrimmage against Vladimir Klitschko that left both boxers looking like they took part in a blood bath, once said: "When the going get tough, the tough get going". As simple as it gets.
I am not going to lie, I am not turning my life inside out this year, none of that. My goals are rather a development of the existing ones, well, there will be some brand new stuff being fitted to my daily basis, but it will not be throwing away my current life and setting off for traveling around the Globe as a hitchhiker.
While talking about the achieving your aims you have to take into consideration that you may want to set them up using the mnemonic acronym SMART criteria that stands for:
Specific – target a specific area for improvement.
Measurable – quantify or at least suggest an indicator of progress.
Assignable – specify who will do it.
Realistic – state what results can realistically be achieved, given available resources.
Time-related – specify when the result(s) can be achieved.
The below model was firstly described by George T. Doran in the November's 1981 issue of the Manager's Review in the United States. As far as I am concerned, I really do think that the goals set in such a way are easy to be understood, followed, reviewed and executed. There is no point in making things harder than they are;) Stick to the basics and you will be, by far, fine.
To Concrets!
Carrer
The New Year started in a truly fashionable for me, on the 2nd of January I inaugurated a new job as an IT/Financial Training Analyst in the Brown Brothers Company. Frankly speaking, I am really excited and full of a positive attitude towards the new role. Assuredly, it would be a brilliant occasion to transform into an experienced yet successful professional, serving as a coach and even a mentor for the others. I would like to be the person who is seen as a focal point of helping my colleagues to develop their technical skills and find their strengths. The qualities which they later may apply to both, the off-work life and, as well as to the career path. I am convinced that my free time activities will perfectly match with the new position of mine of the Training Analyst. Let's Roll (Optimus Prime Voice!)
Additional Projects
Blockchain/Cryptocurrencies Technology
Last Year, I was actively trying to keep track of the financial sector trends and technologies that were being implemented worldwide (I follow sites like Bankier.pl/Businessinsider/Bloomberg/Reuters/Forsal/Forbes on a daily basis). I found one aspect that got me really interest – The Blockchain. It is a global project to expand the idea of one general ledger that would be used for financial and non-financial purposes around the world. At the end of October 2016, I was fortunate to meet Tomasz Korwin-Gajkowski, an IT guy who seems to be obsessed with the earlier mentioned technologies. We exchanged our telephone numbers and stayed in touch for some time. Now and on, we have started working together on the Blockchain concepts in Poland. We both hope that the cooperation results would be satisfying. No doubt, more to follow as soon as possible.
StrengthCraft
I made a brief summary of that project in my previous article regarding the summary of 2016. Basically, our target is to run about 3-4 editions of the StrengthCraft the next twelve months. There is a vision to record and release around 8-10 episodes of both King of the Hill Challenge and Invitational Battles.
My Personal Blog
The longer I write the more enjoyable it becomes, believe me, or not, I feel like blogging is converting into one of my passions. I am simply not able to express my happiness that I made the final decision of setting up such a tool. I have scheduled to release more than 30 articles in 2017 (about 10 more than 2016), about one every 10 days. In addition, I hope that there will be a possibility to open a blog in the new place of my work. No question, there are a lot of publishing and pencraft ins and out that I am yet to discover. However, what is the most important, putting words together is such a great pleasure for me. I just love these evenings when I am having a great brainwave and afflation for writing while having a glass of a sparkling white wine.
Learning and Education
The Main objective in that category is to finish my Master's Degree in the Corporate Finance at the Jagiellonian University while getting my master's thesis being written in English. On the other hand, I would like to continue my journey of learning foreign languages – English and French. It is no secret that I am such a huge fan of philology activities. My dream is to be able to operate three languages with the business proficiency. I am aware that a lot of effort has to be put in that for the near time. I will try to publish an article in French every several time. It would be a wonderful opportunity to test the new language in the practice. And remember, practice makes perfect, whereas, perfect is the enemy of good. Quite confusing;)

Hobbies and Leisure Time
Motorcycling
I know, I know… It is the middle of the winter and it is minimum three months until I get back on my beloved Honda. I probably should focus on something much more important at the moment than dreaming about the summer journeys on the two wheels. But still, there is something special and tempting in looking at the world from behind the gold glass of my helmet, you have to try it – it is hard to put that in words. This year I made a decision that I would like to make about 10 000 kilometers in a season, and 2500 of them as a trip to Constanta, a beautiful Romanian city situated on a sunny seaside of the Black Sea. By the way, did you know that the Constanta city port is fourth largest in Europe? Just after Antwerp, Rotterdam and Marseille. That is, indeed, a fun fact. Additionally, I would like to take part in an extra driving course to strengthen my motorcycling maneuvering.
Lifting and Dieting
This year's goal is pretty much the same as in the previous periods. I wish not to stop lifting weights and keeping my diet in order. Obviously, I will try to break some personal records, but if it doesn't happen I will not be that sad. I can accept failure, but I cannot accept not trying. That basketball player with a number 23 on his back is such a wise man, isn't he?
Instruments
Guitar and Piano
I am a definitely a person who appreciates music and treats it like a mean of relaxing after a tough day of the mental and physical hurdle. I will definitely try to devote more time for playing instruments this year, I promised myself to have a run for the piano lessons. I have already my first one, quite a specific experience it was.
Travelling
I used to be that person who really had not cared about touring the new places until I started to travel… Right now I adore paying visits to other cities and countries, even for very short stayings, like 2-3 days. There is always some added value in traveling, it broadens your horizons and knowledge, you meet people from different cultures, taste the uncommon, yet delicious food, and get memories that stay with you for the rest of your life. Yes, I will definitely live to the words of the below song:
Voyage, voyage
Eternellement
De nuages en marécages
De vent d'Espagne en pluie d'équateur
Voyage, voyage
Vole dans les hauteurs
Au dessus des capitales
Des idées fatales
Regarde l'océan
Networking and Organization
Last 12 months I met numerous of astonishing people, with many of whom I became friends and cooperate continuously. Now I realize how valuable is to get in touch and, most importantly, keep contact with the people of similar interest, aims, and visions. It is a perfect scheme to let good things happen in your life. I will be working hard for the next 52 weeks to build up even a better network chain.
From the organizational point of view, I have arranged three calendars to write down my ideas, follow days and to-do-lists, and improve my long term planning (Scheduled project calls or meetings). There will be one electronic Google/Thunderbird calendar and two classic paper ones, divided into a daily work in the BBH and for my off-work duties. I will have a review of my progress every 4-6 weeks to evaluate if I am on a correct path.
I am also implementing really small solutions to my daily problems. Right now, I am testing a two-minute-rule, in simple words, never postpone anything that doing so would take you two minutes or less. The next improvement is to iron all my shirts, trousers and jackets on weekend for the whole new week.
At first glance, it might look like there are tons of goals to be achieved. Unquestionably, it is quite a tight schedule, but I am convinced that many of the set objectives are complementary to each other which make it easier to fulfill them. There are also some smaller or abstract visions of my next year like getting my arm inked, but it is nothing sure so they are not included on an official list:)
Have you finished with your targets? If so, give me a shout, I am more than eager to have a little chat about them.
PS. There always be eventually a time to celebrate your accomplishments!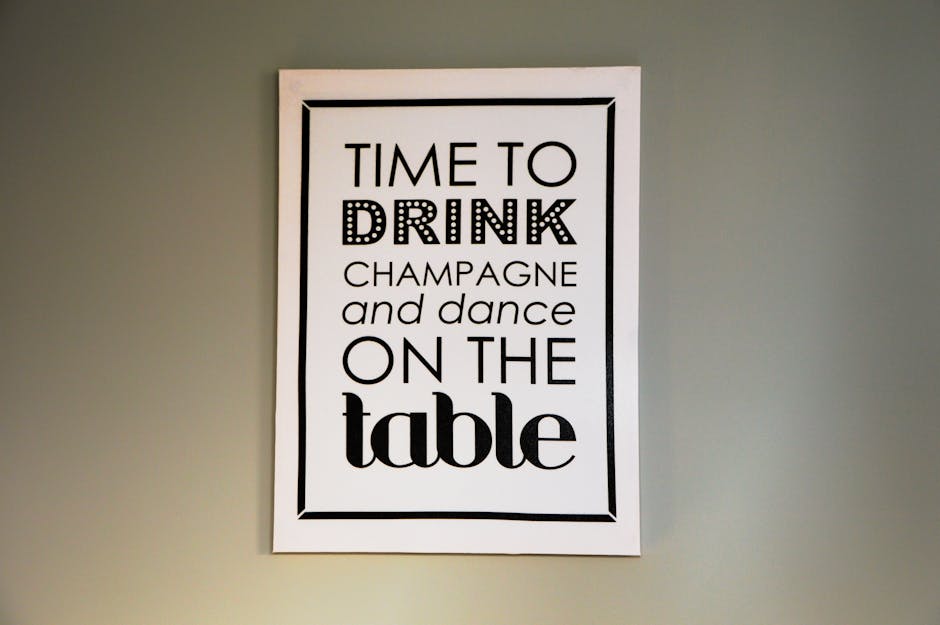 Tomasz Kurowski